Skiing in Banff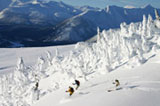 Wintertime in Banff, Alberta brings blankets of immaculate snow and many adventure-seekers in search of a new thrill. Skiers and snowboarders from all over the world come to ski the diverse slopes, dramatic chutes, and powdery bowls of Banff's big three resorts, but the excitement doesn't stop at the resorts. The numerous sights of Banff National Park's backcountry are as diverse as the ways to see them.
Glide through the rich forests on cross-country skis, or venture into wild habitat with a pair of snowshoes. For a unique and unforgettable experience, mush a team of sled dogs across stretches of alpine landscape. Or sail over acres of untouched powder on a roaring snowmobile. Guides and instructors can help you create the perfect wintertime experience.
Banff is an ideal place for snow-filled fun. Look through the useful resources below and you are sure to find just the right adventure during your next stay in this wintertime playground.