Biking in Banff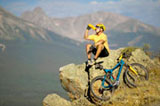 Biking through the trails and roadways is an excellent way to enjoy the sights and cool climate of Banff National Park. This varied terrain and dramatic descents of the Canadian Rockies provide great opportunities to two-wheel your way through dense forests, beside lush meadows, across rocky streams, and along rolling hillsides.
Trails etch their way in and around Banff's surrounding mountains, but the town itself also provides a great venue for road touring. It's easy to cruise the Banff strip thanks to a network of "sharrow" lanes, which allow bikes to navigate safely through Banff Avenue to Cougar, Squirrel and Elk Street and continue in and out of town. There are numerous shops and outfitters that can provide bike rentals, trail maps, and any other necessary equipment.
Whether you're a downhill enthusiast, a dedicated road racer, or just looking for a casual and scenic ride through the quaint streets or striking mountainside, Banff has a trail to suit your needs.