Fishing in Banff, AB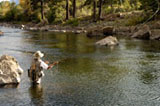 For many people, fishing is an excellent way to escape the stress of daily life and enjoy the peacefulness of nature. In Banff, the extensive and diverse waters provide the perfect opportunity to slow down the pace of a hectic life and relax in the cool mountain climate.
Fishing on the upper Bow River, which runs directly through Banff National Park, offers visitors a chance to soak in some of the best scenery in Alberta while reeling in varieties of brown trout, Rocky Mountain whitefish, and the occasional brook, cutthroat, and bull trout. For the best experience, local guides and be enlisted for day float trips or extended fishing excursions. Their expertise and intimate knowledge of the land will help you catch the largest fish these waters hold.
Take note that fishing in the rivers and lakes of Banff requires a National Park Fishing Permit. All equipment, flies, tackle, and outdoor apparel can be obtained from the many fishing outfitters in the area. Once you've experienced the adventure of fishing in Banff, you'll understand why anglers return here year after year.