Banff Hot Springs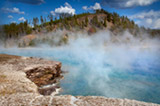 After a vigorous day skiing the slopes or hiking through the densely forested mountainside, you may need something extra special to unwind, and Banff has just the solution. The natural hot springs in the surrounding Rocky Mountains arise from deep within the Earth's crust and are loaded with minerals to rejuvenate and invigorate guests in a natural and harmonious process.
These hot springs have long been a destination for visitors to relax and revitalize in this majestic mountain setting. The springs are active all year long meaning you can soak away all your aches and pains in a warm mineral bath during the height of winter.
The opportunity to relax is certainly necessary with any vacation. These hot springs and spas are a unique and inviting way to wash away your cares and enjoy the beautiful natural surroundings. Why not treat yourself to this soothing indulgence during your next stay in Banff?